Do you want to understand how inclusive your organisation is? In our book, Building a Culture of Inclusivity, we wrote about the DEI E-volution to help organisations identify where they are on their inclusion journey.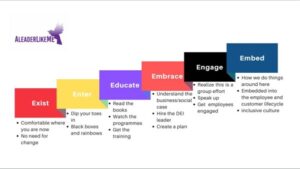 The six key steps we identified from our research and studies are:
Exist
Enter
Educate
Embrace
Engage
Embed
We wanted to create an assessment based on these steps that gave you an accurate outcome based on your chosen answers. To ensure we were capturing the data fairly, we knew we had to involve a couple of experts, so we worked with Diana File and Caitlin Harper.
Diana and Caitlin did a sterling job turning our framework into a 90-second assessment. The results so far show that most organisations are hovering between educating and embracing.
A few have also asked different people in their business areas to complete the test to see if the results match. Because if the HR Director's results show that the organisation is in Embed, but the EDI Director's results show it's still Educate – more work needs to be done on alignment.
The assessment is completely free to complete. As soon as you've submitted your answers, you'll be emailed the results.
If you take the assessment, share if you were surprised when you saw the results or if it was expected.
Take me to the assessment now.
Originally posted on LinkedIn, Follow me for more curious moments.