Employee Value Propositions (EVP) are crucial in attracting, engaging and retaining talent, so what should you consider when supporting EVP development?
CommsRebel is working with a client on building their EVP. With an ambitious growth strategy, the client wanted to ensure that their EVP was effective and reflective of their brand so they can continue to retain their talent and encourage colleagues to become confident brand ambassadors.
We've seen too many companies invest significant amounts of money on this work but then create something that's an ambition rather than reality or, worse, a replica of another EVP from a competitor business.
Through Advita's comms and employee experience career, she's worked on some fab EVP projects with talented individuals and learned from their expertise. If you're a comms pro involved in this work, here are three things to consider when supporting EVP development: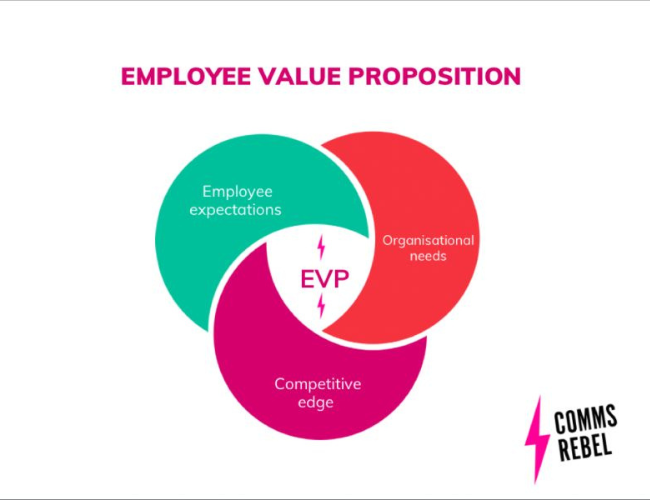 1) Do your due diligence and know the organisation inside out. Focus groups and 121 interviews are a good starting point, but it's not enough. What are the mission, purpose, and values of the organisation? Do people live the values every day? Or are they words on a wall? Observe the culture and also colleague/leader behaviours. Even though this is an employee value proposition, review what your customers are saying. What's the employee experience journey? This will help you understand the gaps in the say/do and give you a benchmark for crafting some of your messages.
2) A cookie-cutter approach will not work. Just because a particular benefit works at Netflix, it doesn't mean it will work in your culture. What's your organisation's unique selling point? Why do colleagues choose to work there? What are the perks? How do people belong and thrive? What sets you apart from your competitors? What are people saying in your exit interviews? On LinkedIn? On Glassdoor? Knowing this information will give you an understanding of what will and won't work. Colleagues will see right through a nonsense campaign.
3) Your EVP should be lived daily, not just during the launch campaign. Engage your colleagues as brand ambassadors. Encourage them to be advocates for the organisation by aligning their experiences with the EVP. Empower them to share their stories and experiences through testimonials, videos, and social media posts. This will help to amplify the EVP messaging and build genuine credibility, internally and externally.
Remember, a successful EVP must be assessed frequently so you can measure its effectiveness. There's no point doing a fancy campaign and then forgetting about it. Put proper metrics in place, such as employee satisfaction, engagement levels, retention rates, and the quality of applicants. This can be used to evaluate the impact of the EVP and make improvements using actual data.
What EVP stands out to you? And why? Let me know!