We've thrown away the event rule book to help you feel energised and empowered so you can transform your workplace culture
Manchester and online | 14 June
Tickets on sale now
An event for trailblazers and positive disruptors
Are you tired of the mundane type of events? You know, the ones where you're listening to the same old talks by the same kind of people? The type of corporate event where you're not really learning anything of interest, but because you've paid for a ticket and taken a day out of your busy schedule, you're trying your best to make it work. And then a few days later the event is a forgotten memory. Yup, we've all been there!
We're pushing against the status quo to bring you an event that will leave you feeling confident and ready to make change happen!
Our rebel speakers are industry experts, award-winning entrepreneurs and world-renowned authors. They will help you learn from outside your echo chamber and information bubble so you can take back to your organisation innovative, interesting and insightful learning that will help transform workplace culture.
Scroll on down to find out more about our star studded line-up which includes Thomas Erikson, Sam McAlister and Nisha Katona.
Mark your calendar to join us on Wednesday 14 June 2023 at The Studio, Manchester or online. Tickets are available here.

So who is it for?
We aim it at leaders in communications, PR, marketing, HR and operations but it's for anyone who is ready to do things differently to help improve workplace culture.
We can't wait to see you there.
Schedule *
08:15

The rebellion starts now

Registration
09:00

Welcome and introduction

CommsRebel founder Advita Patel welcomes you to the second Unleash Your Inner Rebel conference

09:10

How to communicate with bad bosses, idiots and absolutely anyone

Thomas Erikson, best-selling author and communications expert, shares how to communicate effectively

10:10

Curious Conversations (1)

Space for refreshments and conversation

10:25

The future of ChatGPT, AI and social media

Panel discussion, featuring Drew Benvie, Andrew Bruce Smith, Ernestina Zhu and Dan Sodergren

11:05

Mastering the art of negotiation

Join ex-Newsnight producer Sam McAlister to find out how she clinched that groundbreaking interview with Prince Andrew, as well as Elon Musk and more

11:50

Workshops (1)

See more detail below

12:25

Refresh and reinvigorate

Time to relax over a BBQ lunch on the rooftop terrace

13:40

Question time panel

Panel discussion, led by Juergen Maier featuring Ben Horn, Danielle Crompton, Olivia Bussey and Satnam Kaur

14:30

Curious conversations (2)

Pitstop for refreshments and networking

15:05

Workshops (2)

See more detail below

15:50

Inequality and power

Cultural thinker Suzanne Alleyne shares how power dynamics influence every aspect of human life

16:30

Creative leadership

Founder of Mowgli restaurants, Nisha Katona shares her experience of breaking boundaries and how she leads her teams
17:15

Final reflections

Advita Patel wraps up a buzzing day

17:30

Close...and After-party book launch

Celebrate Advita Patel's and Priya Bates' new book 'Building a culture of inclusivity'. Details provided with your ticket!
* Subject to change
Why book a ticket?
As well as talks, workshops and curious conversations, we have spaces for you to learn the way you want to learn. InnerRebel2023 is about choices. We don't want anyone to feel excluded or uncomfortable so if you don't want to network, that's fine – we have a quiet room for you to reflect. If you don't like the sound of the workshops, you'll have the opportunity to create your own. If you need so time out we have a rooftop terrace where you can soak in the Manchester views whilst listening to our event DJ.
As well as all that, we guarantee you will:
1.   Gain new insights and ideas from experts outside of your industry.
2.   Network with likeminded individuals who will broaden your horizons.
3.   Discover new ways of thinking to apply to your professional network.
4.   Step out of your comfort zone and be challenged.
5.   Be inspired to question the status quo and think differently.
Location
The Studio, Manchester
The Hive, 51 Lever Street, Manchester, M1 1FN
Visit The Studio, Manchester site here
Advita Patel
Founder
After what we've experienced over the last couple of years, I want to create something that helps light the fire in our bellies again, gives us inspiration, brings excitement and also build a community of like-minded folks so we can continue the conversations beyond the event. It'll be an event that will help you push the boundaries and give you the support you need to future-proof your skills as a leader.
Over the years I've been frustrated at conferences that never had representation on stage. So, for me it was critically important that the speakers were not only representative but also from a range of industries. As much as I love learning from fellow practitioners it's imperative that we widen our horizons and learn good practice from other areas of business.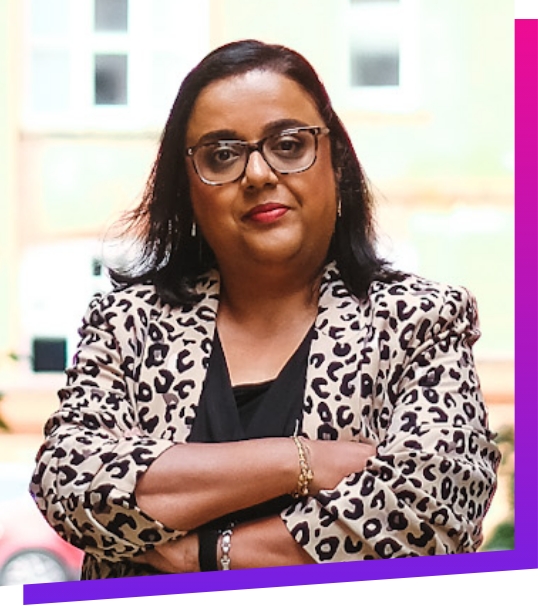 Sponsor Unleash Your Inner Rebel 2023
Support our event and connect with an amazing group of communicators, marketers and PR professionals. We have a range of opportunities, which we can share with you.
Frequently Asked Questions
Do you have any questions? Check out our frequently asked question page. If your question isn't covered then drop us an email to conference@commsrebel.com.