Tickets on sale now! – Unleash your inner rebel hybrid conference.
Revolutionising workplace cultures from the inside out.
We help make a difference in the world of work so leaders can boldly cultivate inclusive cultures that work for everyone.
The workplace is evolving.
Are you ready?
Work as we know is changing fast and a strong organisational culture has never been more important.
Is your organisation's culture strong enough to survive future challenges? Do your employees feel like they belong at work? Are your employees connected to your vision, mission, values and purpose?
If you're ready to do things differently to have a greater impact, CommsRebel can help you. We can support with delivering impactful change programmes, inclusive communication audits, and skills training. Collaboratively we will work with you to develop a communications strategy that's meaningful and inclusive. We also offer workshops on confidence, inclusivity, leadership and difficult conversations.
We're at home in the workplace.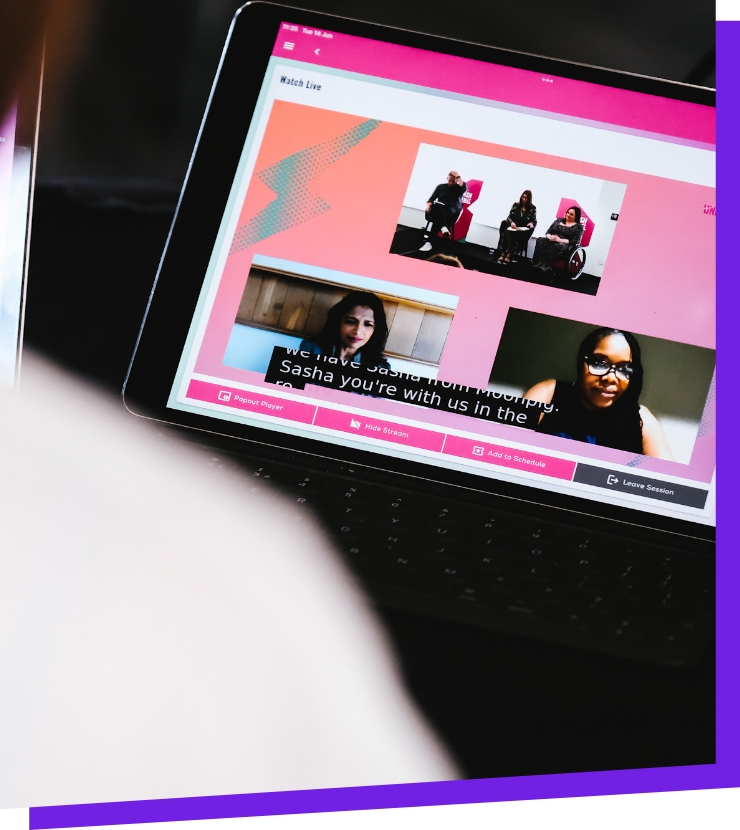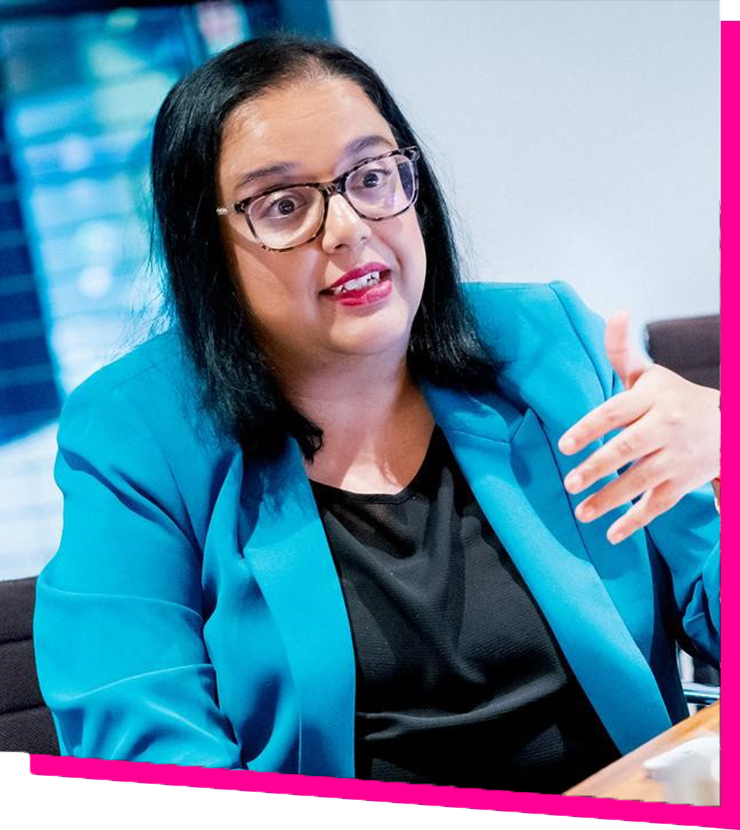 You care how people feel at work. And so do we.
Powerful things can happen when people feel they belong in their workplace. Performance is strong, profits are high, and people are engaged more with the purpose of your organisation.
We support leaders in understanding what a thriving, inclusive culture means to them. We embed innovative internal communication practices to help promote a sense of belonging in organisations. The result? More engaged employees who thrive in their work.
We're a Manchester-based internal communications and employee experience consultancy that works with clients from across the globe. Led by Advita Patel, co-author of Building A Culture of Inclusivity, we're known for making a difference by supporting leaders to cultivate inclusive workplace cultures that can help their organisations thrive.
We can help you make a difference in the workplace by…
Employee
listening
Inclusive communication audits. Our experts will help you facilitate listening sessions to understand how your employees feel so we can guide and advise you on the best approach with industry insights and robust recommendations to help your team thrive.
Change
communications
Change communication. Using employee feedback and our insights, we'll bring a fresh perspective to show how your organisation and its leaders can take meaningful action to drive change.
Confidence coaching
for comms teams
Confidence coaching. We coach and mentor communications and HR teams and individuals to help you feel empowered to lead confidently.
Inclusive
comms strategy
Strategy development. We can help you build inclusive cultures through an effective internal communications strategy and ensure that inclusivity is at the heart of your messaging.
Comms
measurement
Insights and data. Measurement is essential to an effective communication strategy. We use proven methods to audit and review your communication channels so you can focus on communicating to your people.
Testimonials
Advita's deliverables were top-notch, and she had the versatility to work across the whole spectrum of internal communications
Advita worked with us over several months during a period of disruption and change at the Barbican, when we really needed to step up how we were communicating with our team. She took a very collaborative approach, taking the time to properly understand our context and hear from our people about what did and didn't work for them. Her deliverables were top-notch, and she had the versatility to work across the whole spectrum of internal communications – at a tactical level producing engaging and informative content and materials, while also developing an overarching internal comms strategy for that will stand us in good stead for the future.
James Tringham – Barbican Centre
Barbican Centre
An absolute joy to work with
We teamed up with Advita for an internal comms project and have gone on to work on another project around inclusion and belonging. She is hugely knowledgeable and experienced as a consultant but, more importantly, an absolute joy to work with. She's collaborative. committed and always brings a fresh perspective. It's such a pleasure working together, and we can't wait to find some more projects to team-up on.
Gemma Moroney & Damon Statt – co-founders, SHOOK
Advita is fantastic!
Not only does she know an endless amount about communications and best practice, she is also a highly professional and delightfully friendly person to work with. Recently, Advita worked with VMA GROUP during the early stages of the Covid19 pandemic and helped to facilitate and lead a large number of webinar discussions with VMA GROUP's clients and broader stakeholder groups. Discussion topics focused on the impacts of the pandemic, crisis communications and how best to deal with the many challenges that Comms professionals were facing. The sessions led by Advita received fantastic feedback and we were very grateful for her support and hard work. I can't recommend Advita highly enough.
Andrew Harvey – CEO, VMA GROUP
Advita is passionately committed to her profession
Advita worked with me on an important transformation project –she developed and implemented our communications strategy. Advita is passionately committed to her profession and an expert in communications, including dealing with all kinds and levels of stakeholders.
Karen Walkden – HR Director, Magnox
The session was fully booked!
The confidence session that Advita delivered for Sustrans was fantastic! It gave people practical tools to help build their confidence, think about what 'imposter syndrome' is and how to work through various exercises to continue to build on a foundation of confidence. She looked at different scenarios and how confidence looks different in different people and different situations.
The session was fully booked, with people on the waiting list wanting to join! It was pitched at exactly the right level. It was great as a facilitator to have a chat with Advita before the session to ensure that she was aware of where we as an organisation were and how she could make the most impact.
I have been inundated with people wanting to watch the recording and access the workbook.
Thank you so much, Advita. We'd love to have you back to help us again to build on what you've started.
Ridhi Kalaria, Partnership Manager, Sustrans
Sustrans
I will be forever grateful for what Advita has done for me
I started working with Advita when I got a promotion at work that I wasn't convinced I was capable of doing. Imposter Syndrome was raging, and I was scared of the idea of being seen as a leader. In my first session, I made it clear to Advita that I was not talking to her about 'progression' or 'next steps' at all. I was there to get more confident in my role. Three months in, I was confident and happy. I wondered why I'd held myself back for so long – why I'd let anxiety prevent me from living to my potential.
Five months in, and I found myself applying for (and securing!) a new job with more responsibility and better pay – at a level, I would never have thought myself capable or worthy of previously. Advita is, quite simply, an amazing human being. She knows exactly how to help others see their own potential and their own worth. She recommended the very best books for my particular set of confidence issues. And she asked me all the right questions to help me better understand myself and my abilities.
I will be forever grateful for what Advita has done for me. She is an inspiring coach because she is an authentic coach. Her experience, her approach, and her commitment to supporting her coachees make her brilliant at what she does.
Thank you Advita. I am incredibly lucky to know you.
Emma Cooke, External Affairs Manager
Quality of Life Foundation
Advita isn't afraid to step into mid-flight fast-paced environments
She uses her skills to assimilate information quickly to bring an effective Communication and Engagement plans together. Providing counsel and constructive challenge across a wide spectrum of stakeholders, to drive awareness and behaviour change in practical grounded ways, as part of a desired cultural behaviour movement, is not only something that Advita delivers well, but it's part of who she is and it's a natural skill she brings into her everyday engagement with people.
I highly recommend Advita, her overall work ethic, ability to build business intelligence quickly, her solid technical skill set, alongside a behaviour skill and approach that makes her, in my opinion, business agnostic in supporting and driving transformation change.
Julie Lewis – Senior HR Director
Ricardo
CommsRebel Platform
Our free CommsRebel platform is available from wherever you download your apps. If you're looking for an inclusive community to share ideas, ask questions and find relevant resources, the CommsRebel platform is for you. It's open to anyone who wants to make a difference in the world of work so people can thrive.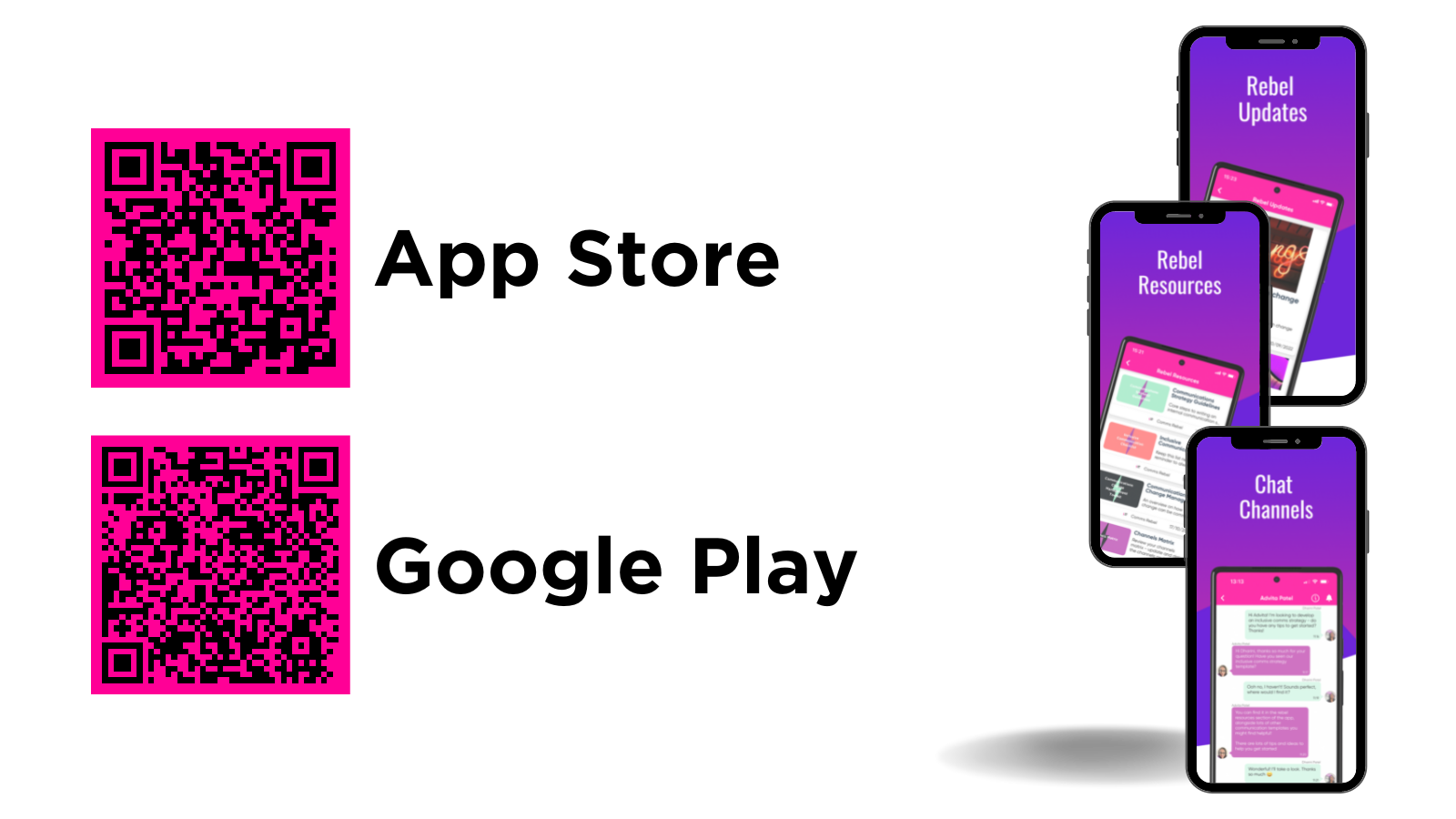 Consultancy
We help you tackle your biggest communication challenges. We ease the pressure on you and act as an extra set of hands when you need it most.
We're highly experienced internal communication and employee experience professionals. We provide a bespoke service to support you through large-scale transformations to embedding inclusive practices in your organisation.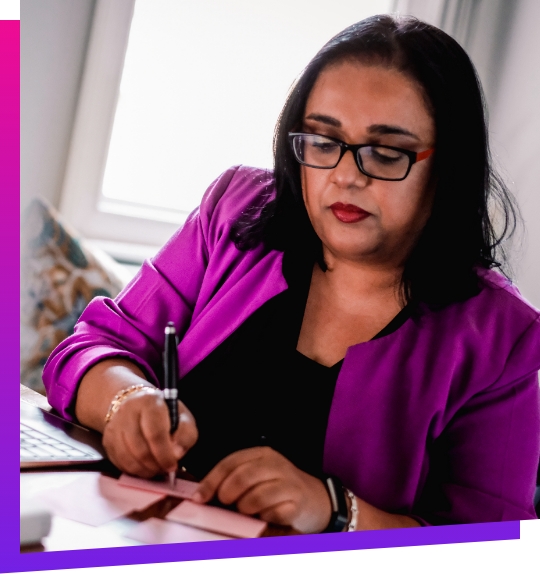 Coaching
Do you feel you are expected to have all the answers? Are you being asked to deliver comms outcomes and unsure what approach to take?
Our coaching and mentoring packages provide you with practical support advice to lead with confidence and make a positive impact.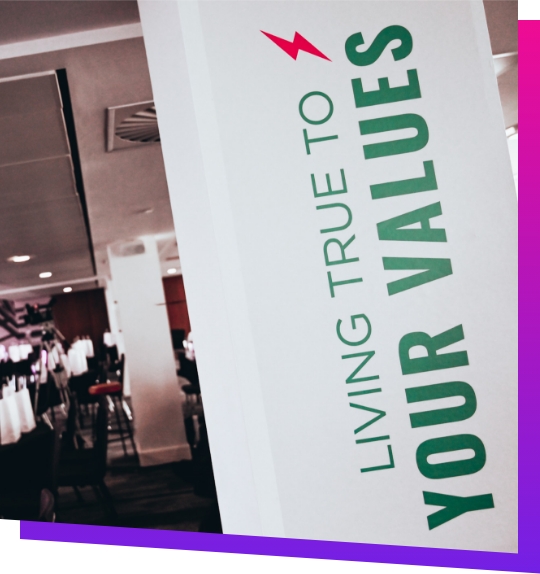 Speaking
Advita regularly speaks at events on topics such as the impact of DEI on internal comms, managing impostor syndrome and how to unleash your inner rebel.
She is thought-provoking and takes complex topics and makes them easy to understand, using examples from her own experience.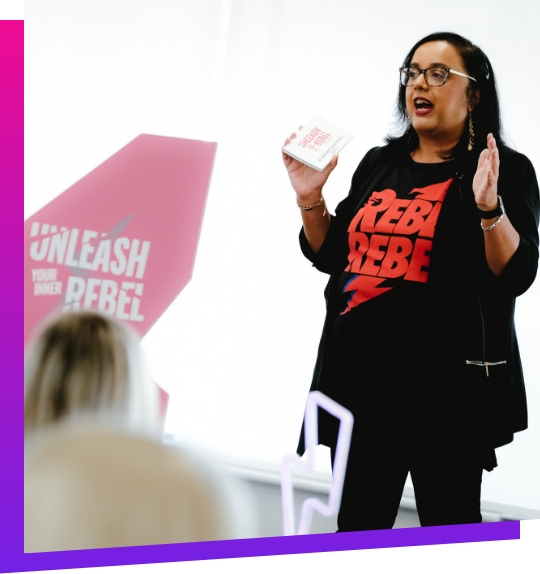 Contact us
Do you want to explore how we could work together and help you unleash your inner rebel?
Book your free 15-minute consultation to share your comms and culture challenges.
Chief Rebel Officer
Advita Patel
Having worked in internal communications roles for most of her 20-year career, Advita set up CommsRebel in her hometown of Manchester.
Fuelled by her personal experiences of not fitting in or belonging in the workplace, she has created a communications consultancy that focuses on making a difference to people and how they feel at work.
A qualified coach, Advita also works with senior leaders and internal communications teams to develop their confidence to lead change and have those difficult conversations.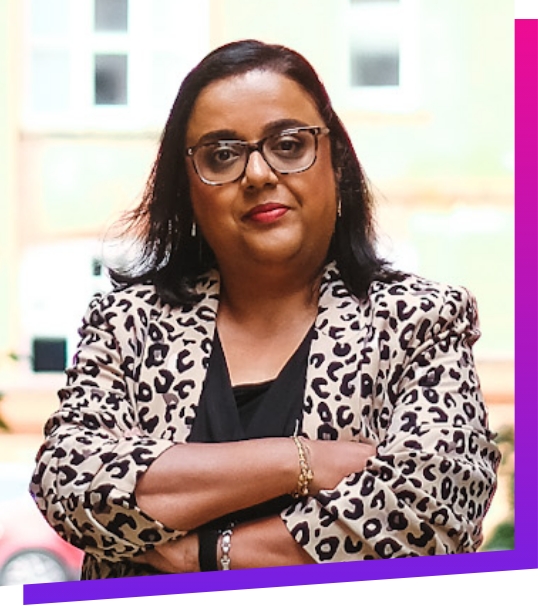 Rebel Review
Join our mailing list to receive our newsletter Curious Rebel. Every fortnight, we'll share insights from the world of internal comms, along with practical advice to empower and bolden you!