#CuriousMoments with Advita
Evoking curiosity is a big part of the work I do for my clients.
Whether creating a communications strategy or developing an Employee Value Proposition, I will always keep curiosity front of mind.
This is why 👇🏽
When colleagues are curious, it'll almost always lead to conversations.
When conversations take place, connections are built.
When people feel connected, they will collaborate.
When collaboration happens, capability will be enhanced.
And when capability is enhanced, it'll always lead back to curiosity, as most colleagues will want to keep thriving.
Feels simple right? That's because it often is. Curiosity is powerful. It can help keep people safe, enable innovation and give people hope.
But to evoke curiosity, you must cultivate a culture that's inclusive and psychologically safe. Unsafe cultures which are not inclusive will stifle curiosity and stop colleagues achieving their full potential.
If you want to evoke curiosity think about the channel mix for each stage, what outcome you want to achieve and the behaviour change it'll enable.
What are your thoughts about curiosity? Do you consider this when you communicate with colleagues?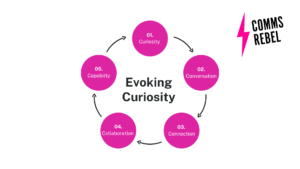 Originally posted on LinkedIn, Follow me for more curious moments.